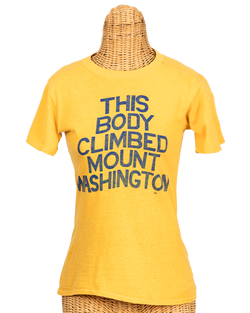 Vintage: This Body Climbed Mount Washington Tee
Mount Washington is a popular destination for climbers from around the world. The highest peak in the Northeast, this majestic mountain stands 6,288 feet tall and is often referred to as the "Great White Giant" due to its snow-covered top. Climbing Mount Washington is a challenging yet rewarding experience, requiring endurance and skill. Those who successfully summit are rewarded with stunning 360-degree views of New England's landscape.
Note: Please refer to product details and our sizing chart for exact measurements as vintage sizing can vary greatly from modern t-shirt sizes.
Products are subject to imperfections due to the vintage nature. We believe those imperfections are what make these Tees one-of-a-kind. All vintage items are nonrefundable and ineligible for returns or exchanges.
*Note that there is a small hole on the front, two small holes on the bottom, a small hole on both sides of the collar and a stain on the side of the logo.

Product Details:
Screen-printed
Across Chest: 15.75
Length: 23.75