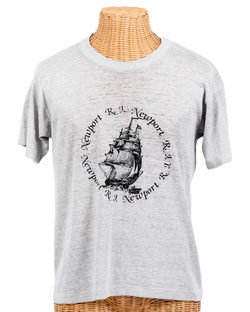 Vintage: Newport RI Ship Tee
The coastal town of Newport, Rhode Island, where the sea and sailboats are a way of life! This vintage tee has weathered the passage of time with grace and charm, and carries with it the stories and memories of a bygone era. By wearing it, you become part of that history, and you can feel proud to honor the legacy of the sailors who have sailed the seas before you.

Note: Please refer to product details and our sizing chart for exact measurements as vintage sizing can vary greatly from modern t-shirt sizes.

Products are subject to imperfections due to the vintage nature. We believe those imperfections are what make these items one-of-a-kind. All vintage items are nonrefundable and ineligible for returns or exchanges. 
*Note that there is discoloration on the sleeve and small holes on the front
Product Details:
Screen Stars Label
Screen-printed
Size on Label: XL
Across Chest: 21.5 inches
Length: 27 inches