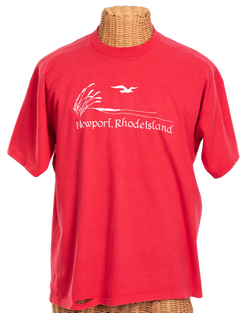 The vintage Newport, RI t-shirt's once-vibrant colors now faded by the sun and salty air and its fabric getting as thin as the memories it holds, of days spent lounging on the beach and nights filled with laughter and whiskey. The shirt spoke of a forgotten era, a time that could never be recaptured but always remembered.
Note: Please refer to product details and our sizing chart for exact measurements as vintage sizing can vary greatly from modern t-shirt sizes.
Products are subject to imperfections due to the vintage nature. We believe those imperfections are what make these Tees one-of-a-kind. All vintage items are nonrefundable and ineligible for returns or exchanges.
*Note that there is a rip on the bottom hem and a small rip under the right side of the collar 
Product Details:
100%  Cotton
Screen-printed
Size on tag: XL
Across the Chest: 23 inches
Length: 27.5 inches