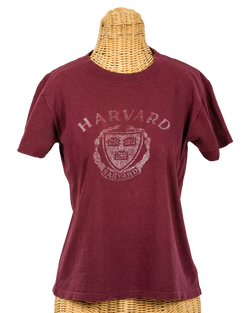 Vintage: Harvard Crest Tee
This Harvard shirt may be worn and faded, but it still serves as a tangible reminder of the university's enduring legacy. It's a testament to the countless students, faculty members, and alumni who have passed through Harvard's hallowed halls over the centuries, leaving their mark on the world in countless ways.
The faded Harvard shirt is more than just a piece of clothing. It's a symbol of something much larger and more enduring - a testament to the legacy of one of the world's greatest universities, and a reminder of the power of knowledge, education, and perseverance.

Note: Please refer to product details and our sizing chart for exact measurements as vintage sizing can vary greatly from modern t-shirt sizes.
Products are subject to imperfections due to the vintage nature. We believe those imperfections are what make these Tees one-of-a-kind. All vintage items are nonrefundable and ineligible for returns or exchanges.
*Note that the screen print is weather and that there are small stains and discoloration on the front 
Product Details:
100% Cotton
Screen-printed
Made in U.S.A
Size on Label: M
Across Chest: 18
Length: 22