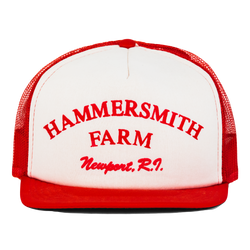 Vintage: Hammersmith Farm Newport RI Hat
In 1949, Hammersmith Farm was purchased by Jacqueline Bouvier's father, John Vernou Bouvier III, who was a wealthy stockbroker. Jacqueline Bouvier, who later became Jacqueline Kennedy, spent much of her childhood at the estate and it was also the location of her wedding reception when she married John F. Kennedy in 1953.
Hammersmith Farm is notable for its stunning architecture and beautiful gardens. The estate features a Georgian Revival mansion with sweeping views of the Atlantic Ocean, as well as a carriage house, a stable, and a tennis court. The gardens were designed by the famous landscape architect Frederick Law Olmsted, who also designed Central Park in New York City.
Products are subject to imperfections due to the vintage nature. We believe those imperfections are what make these items one-of-a-kind. All vintage items are nonrefundable and ineligible for returns or exchanges. 
Product Details:
100% Polyester
100% Nylon Mesh/ Filet Polyurethane Foam Laminated