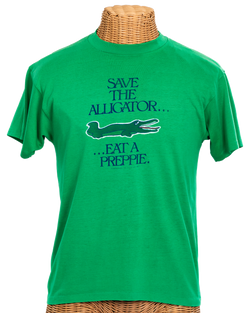 Vintage: Save the Alligator 1981 Green Tee
From Princeton's Alumni Weekly:
In 1980, the Official Preppy Handbook became a nationwide sensation, a short reference guide on how to successfully navigate the preppy life. Written originally as a satirical piece, the handbook was adopted by many as a genuine guide. The cover promised essays on "the virtues of pink & green" and "clubs at the big three," and proclaimed, "Look, Muffy, a book for us." 
Many students at Princeton, however, rejected the connotation that the book gave them and other Ivy Leaguers. These detractors became known as the anti-preppies who made T-shirts suggesting a heavier-handed approach.

This 'Save the Alligator Eat a Preppie' 1981 T-shirt, an important relic of preppy culture's history, has been preserved to live on as a lighthearted jab at the preppy lifestyle which gripped American culture for so long.  
Note: Please refer to product details and our sizing chart for exact measurements as vintage sizing can vary greatly from modern t-shirt sizes.
Products are subject to imperfections due to the vintage nature. We believe those imperfections are what make these Tees one-of-a-kind. All vintage items are nonrefundable and ineligible for returns or exchanges.
Product Details:
100%  Cotton
Screen-printed

Across the chest: 19.75 inches

Length: 25.5 inches