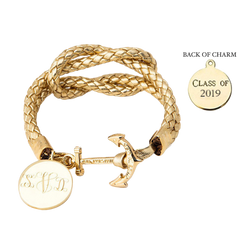 The Fortunate Sailor Monogram--Class of 2019
Help your favorite graduate celebrate this momentous occasion by giving them a gift that will remind them of their accomplishments for years to come. The front of the charm bears the recipient's monogram and the back is engraved with the message: "Class of 2019"
The Square Knot
Considered the most useful and versatile knot in boating. Used for tying light lines, awning stops, reef points, cord on packages – in fact, because of it's numerous uses by sailors, many landsmen call it "The Sailor's Knot".
Initials should be entered as they should appear on the product. For example, if your name is Kiel James Patrick, and you would like the traditional last name as the middle character, please enter your initials as "KPJ".

PLEASE NOTE: ALL MONOGRAMMED ITEMS ARE CUSTOM MADE AND CANNOT BE RETURNED OR EXCHANGED.

Please allow 5-7 business days for delivery of your personalized product--we engrave them all right here in our factory and can only do so many at a time! We will do our best to beat this timeframe.
Product Details:
Braided top grain leather
Gold plated brass anchor
Gold plated 3/4" diamond cut engraved charm
Anchor length is 1.25" (3.17cm)
Anchor width from widest point 0.75" (1.90cm)
Color:
Gold