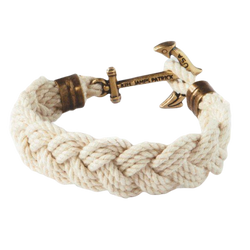 Mariner and Cape Poge Bay
Our Turk's Head Knot Collection bracelets are a recreation of the timeless beachside accessory. Each bracelet is hand­-braided with our locally twisted nautical cord in a variety of classic New England colors.

As kids growing up on the Cape, Kiel and his brother Tom would pick out their sailor bracelets every June. Shrinking them to their wrists under hot water, the rope bracelets would endure an entire summer of havoc and adventures. It was always a terrible moment when at the end of the summer their favorite bracelet would have to be cut off. The KJP Turk's Head Knot bracelet is fastened with our signature anchor clasp so that you can wear your bracelet when you want to -- and take it off when you need to.
Product Details:
Cotton nautical cord
Brass anchor
Anchor length is 1.25" (3.17cm)
Anchor width from widest point 0.75" (1.90cm)
Gift Box Included
Color: White