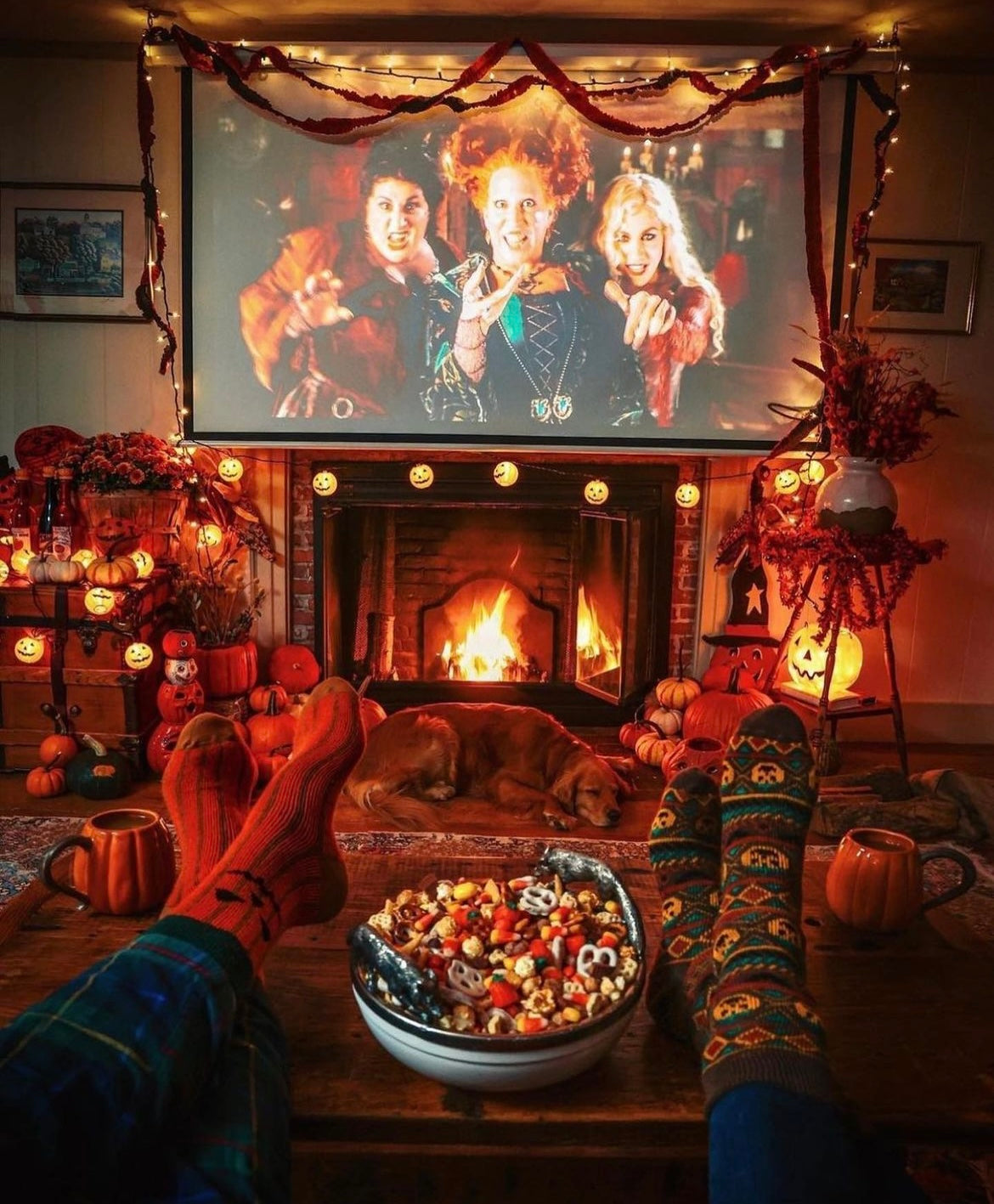 Our Favorite Halloween Movies 🎃
You know that cozy feeling you get when you sit down with a bowl of your favorite spooky snacks, light the candles inside your freshly carved jack-o'-lanterns, and the opening credits begin to play from your favorite Halloween movie? Good, us too! Year after year, we eagerly anticipate the arrival of this special season, not only for the spooky thrills and sweet treats but for the familiar comforting feeling of getting lost in a enchanting Halloween cinematic world. Here are some pictures from our favorite projector movie nights with family and friends, and a list of our go-to movies for the coziest Halloween of All:
Harry Potter
The journey to Hogwarts, the Sorting Hat ceremony, and the adventures of Harry, Ron, and Hermione have become integral parts of our Halloween tradition. The Harry Potter series combines the thrill of magic and the power of friendship, making it the perfect choice for a cozy movie night. Each film brings its own unique charm, whether we're reliving the magic of the first year or delving into the darkness of the Deathly Hallows. We set up this scene in front of this rustic majestic fireplace at a beautiful Cabin we rented on Saranac Lake in the Adirondack mountains. 
Hocus Pocus
"Hocus Pocus" has etched itself into our hearts, and we can't resist the nostalgic filled tale of the Sanderson sisters. The story of Max, Dani, and Allison's adventure to stop the wicked witches from returning is brimming with Halloween magic for every age. Each time we watch, we find ourselves transported to the enchanting streets of Salem and reliving our own youthful Halloweens.
The Nightmare Before Christmas
Is it a Christmas movie or Halloween? Tim Burton's "The Nightmare Before Christmas" bridges the gap between Holidays perfectly blending the frightful fun of Halloween and heartwarming magic of Christmas. The jaw-dropping stop-motion  animation and harrowing sound track of this dark fantasy is among the season's very best movies. Each October we long to revisit the town of Halloween.
It's the Great Pumpkin, Charlie Brown
Charlie Brown and the Peanuts gang hold a special place in our hearts, especially during Halloween. "It's the Great Pumpkin, Charlie Brown" is a heartwarming reminder of the joys and disappointments of childhood. We chuckle at Linus's unwavering belief in the Great Pumpkin and empathize with Charlie Brown's Halloween woes. 
the Over the garden wall Series
"Over the Garden Wall" while not a movie has become a tried and true tradition at KJP. It's a delightful and enigmatic limited television series consisting of  10 short and stunning episodes. Its charming mix of folk tales, hauntingly beautiful music, and timeless themes of friendship, courage, and the unknown, make it a must-watch every Halloween season. It's a show that effortlessly captures the essence of the holiday, offering a blend of whimsy and spookiness that keeps us coming back year after year.
As the years pass, our Halloween movie tradition only grows dearer. It's not just about the films themselves but the memories we've created, the laughter we've shared, and the anticipation of more Halloween seasons to come. We invite you to embrace your own traditions this Halloween and find comfort in the magic of movies, cozy socks, and the company of loved ones. After all, these cherished moments are what truly make the season special
our Definitive Top 10:
Nightmare Before Christmas
Hocus Pocus
Over The Garden Wall
Beetlejuice
Donnie Darko
Casper 
Sleepy Hollow
Labyrinth 
Adams Family
Tie: The Shining & Edward Scissorhands