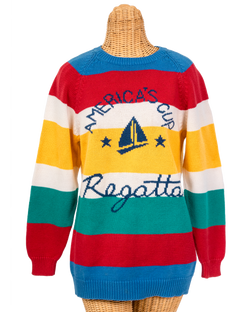 Vintage: Americas Cup Regatta Multi Stripe Sweater
Step into the vibrant world of sailing history with this vintage '80s cotton knit sweater from the America's Cup Regatta. With its bold and colorful stripes and cursive script knit that proudly displays America's most prestigious sailing competition, this sweater is reminiscent of the vibrant sails on the 12-meter sailboats that raced out of Newport, RI's harbors. It is sure to be a top-of-class winner in your wardrobe this summer.

Note: Please refer to product details and our sizing chart for exact measurements as vintage sizing can vary greatly from modern t-shirt sizes.
Products are subject to imperfections due to the vintage nature. We believe those imperfections are what make these items one-of-a-kind. All vintage items are nonrefundable and ineligible for returns or exchanges.
* Note that there is a small stain on the back, that the sweater has minor pulls throughout, and one armpit has loose stitching.
Product Details:
Across Chest: 19
Length: 28